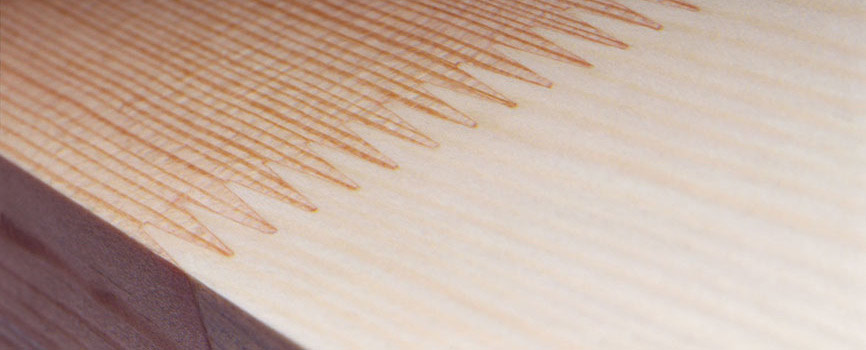 Technical data
Wood species
Scots Pine or Black Alder
Width*
30-105 mm
Thickness*
10-50 mm
Length
0.5-6.4 m
Gluing*
EN 204-D3
Quality
A, B or C
Surface
Planed or sanded (K80 or K120)
Moisture content
10±2%
* In the case of long-term cooperation, different width and thickness parameters of the finger-jointed timber can be discussed. Moreover, there is also a possibility to use glue D1, D2 or D4.
Finger-jointed timber (FJT) is a widely used product. It has a list of advantages in comparison to the regular sawn or planed timber. Finger jointing results in much higher quality, straightness, dimensional stability and flexibility (regarding quality and size options) of planks/beams.
Finger-jointed timber is our core product meaning that we use it for the production of other goods from our portfolio. For FJT production, we use sawn timber. Sawn timber is produced in our sawmill department and dried to the moisture content of 8% in drying chambers with an Italian automatic control system.
After sawn and dried timber is delivered to the finger-jointing department, the timber undergoes primary calibration to increase the visibility of unaccepted wood defects and significantly improve the quality of finger-jointing. After, unaccepted wood defects (according to agreed specifications) are marked and cut off on the Italian optimizer Salvador. Then, previously obtained semi fabrications undergo the process of finger-jointing on high-productive Italian finger-jointing line Spanevello.
Depending on customer's needs, manufactured FJT could be planed one more time on German profiling machine Weinig in order to obtain perfect S4S finger-jointed timber with the tolerances of 0/+0.5mm. FJT may be supplied with the claim of FSC 100%.
When you choose products of MEBLEVA, you will be satisfied with the constant high-quality and affordability of our products.