Mouldings and other profiled products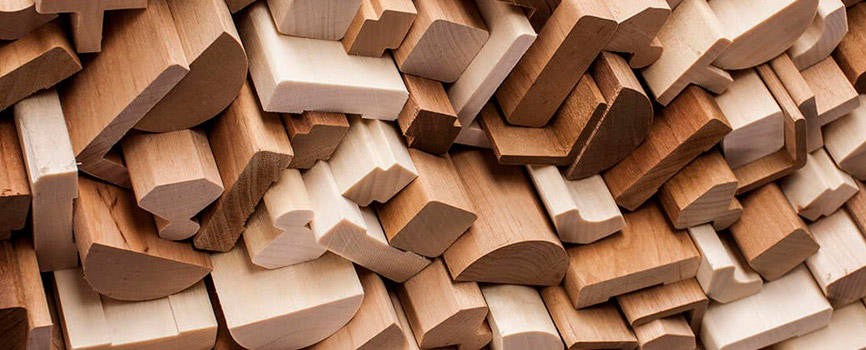 Technical data
Wood species
Scots Pine or Black Alder
Width
20-230 mm
Thickness
10-50 mm
Length
0.5-6.4 m
Gluing*
EN 204-D3
Quality
A, B or C
Surface
Planed or sanded (K80 or K120)
Moisture content
10±2%
Wrapping
Oak veneer (thickness of 0.5mm) or lacquered pre-impregnated paper
Additionally*
A possibility of mouldings production according to a customer's drawings
* In the case of long-term cooperation, different profiles of mouldings can be discussed. Moreover, there is also a possibility to use glue D1, D2 or D4.
Our company produces a wide range of mouldings and other shaped goods, precisely, door frame and trim, plinth, wall lining and so on. For mouldings production, we use high-quality finger-jointed timber or MDF which is planed on the profiling machine Weinig providing accurate sizes of manufactured products (tolerance of 0/+0.5mm). Upon the request, mouldings can be sanded on the Italian sanding machine for profiles VOLPATO (K80 or K120).
Moreover, our factory has a wrapping department with all the necessary machinery for veneer and paper-foil processing, such as strip cutters (guillotines), German veneer gluing machinery KUPER and Spanish wrapping line BARBERAN, etc. Therefore, pinewood or alderwood mouldings and other shaped goods can be wrapped into oak veneer (thickness of 0.5mm) or lacquered pre-impregnated paper.
Mouldings can be supplied with a claim of FSC 100% or FSC Mix.
When you chose to work with the Malyn furniture factory, you will be satisfied with our flexibility, constant high quality, reliability and affordability.
Plinth - M01
Pinewood
Oak veneer
Paper-foil
Plinth - M02
Pinewood
Oak veneer
Paper-foil
Plinth - M03 (Easy fix option)
Pinewood
Oak veneer
Paper-foil
Other products
Door mouldings
Wall lining
Floor board